By Katie O'Connor-Ballantyne
So you're an aspiring composer, hoping to make your mark in educational music publishing. You may be asking: "If I want to compose, how can I get started?" "How does someone actually get their foot in the door as a working composer?" "What does a composer need to do to become successful?"
To that end, I'd like to offer two perspectives: first, as a somewhat "new-to-the-scene" female composer, I'd like to share a little bit about how I found success writing for choirs; and secondly, as an editor, I'd love to offer some insight about how new music is selected for publication, and how composers can put their best foot forward when submitting. My hope is that both viewpoints will encourage novice composers to begin writing, keep writing, and ultimately add their new compositional voices to the chorus.
Writing from a foundation: background training
When I got my undergraduate music degree, I had no plans to write music. However, I had studied music theory, music history, choral conducting, and music education. I developed my aural skills to the point where I could easily translate sound into written musical notation. To put it another way, I became fluent in the language of music. While you can (and should!) start composing at any age and stage in your musical development, know that it's a foundation that can take years of practice to acquire. The most important thing, in the early stages, is to write your ideas down in a way that you can reliably reproduce them, and teach others to do the same.
Writing what you know: using life experience
By the end of my undergrad degree, I knew I had a passion for music teaching, especially working with choirs. In my early career, I taught at an elementary school briefly before transitioning into teaching at the high school I graduated from, which had a robust and well-supported music program. As it turns out, those years spent in the choral classroom really shaped me as a composer. As a conductor, I spent a lot of time choosing music. I attended many reading sessions at music education conferences, pored over the music catalogs, and listened to as many recordings as I could get my hands on. I learned pretty quickly that finding interesting, diverse, and age- and stage-appropriate repertoire could be really challenging! I craved texts that were rich with meaning, melodies that made my heart soar, and just the right blend of accessibility and opportunity for musical growth. As I began writing, all of the factors that influenced me as a conductor choosing music became considerations for how and what I would write: I wanted to write music that was interesting to and accessible by my students.
Writing what excites you: leaning into your passion
After I had taken some time off from teaching to raise my young children, I had the opportunity to attend not one, but two choir reunions in a relatively short period of time. My passion for choral music was reignited in a heartbeat, and the week after the second reunion, I wrote my very first piece. It was a logical first step to try out writing for choirs, since I had a lot of experience singing in them and conducting them.
Writing as a beginner: learning from your mistakes
I would love to tell you the first piece I composed was awesome and perfect. I would love to tell you it was recognized for its genius right away. But honestly, it was pretty lousy. It was never performed, and for good reason: when I look at it now I can see exactly why. Still, after finishing a first attempt, I immediately set about writing another. I was definitely hooked, and I was eager to improve. It would have been easy to just let that first piece stay unfinished forever, knowing it wasn't great—but finishing that first piece let me see the process through all the way to completion, and gave me the energy to try again, and to try some things differently.
Writing for feedback: learning by listening
When I finished my second piece, I sent it to a dear friend and colleague, who encouraged me to keep writing. He volunteered to let me come work with his college choir when I completed a first set of songs. Hearing my work actually sung by live singers taught me a lot about what worked and what didn't. I sent the same set of pieces to another conductor, hoping to get a second performance out of the same set. That conductor turned me down, but was kind enough to give me a wealth of feedback about my writing.
Writing as experimentation: breaking new ground
Back to the drawing board once again. I kept writing and sending compositions off to friends and colleagues to peruse, and hopefully to program. Slowly, with lots more trial and error, my writing improved. I got pickier about texts, how I used them, and how I wrote for the voice and for other instruments. Eventually, the goal became to break new ground for myself with each composition. I wrote a song cycle for choir and string quartet. I wrote a standalone short work for soprano and chamber orchestra for a local music festival. And, when I started working as a children's choir conductor, I began writing things both inspired by and appropriate for my own ensemble. All along the way, whenever possible, I'd go to work with the choir and/or attend the performances, all with an eye towards figuring out how to continue to grow my skill.
Writing with perspective: learning from other composers
When I wasn't doing my own writing, I was studying the music of other composers, both for my own choral conducting and for the small music engraving business I had built on the side. In my business, I got to examine the work of a multitude of seasoned composers working in multiple areas of expertise, from new concert works by GRAMMY® Award-winners, to film music, to big band scores. This was in addition to doing proofreading work on just about every flavor and level of difficulty of choral music imaginable, from the piece you'd give your very first children's choir to collegiate and professional choral repertoire. Through all of it, I was soaking up knowledge from these people who were already doing the kind of work I wanted to be doing.
Finally, after a good body of performances and lots of feedback from conductors and young singers alike, it was time to try submitting my work for publication. I'll tell you more about that in my next post (coming soon)!
---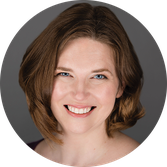 Katie O'Connor-Ballantyne is Associate Editor of Classroom & Choral Publications at Alfred Music. She is the author of multiple books and choral works. During her career Katie has taught at every age and stage, from elementary to adult. Katie is an active conductor, adjudicator, and clinician at music conferences and festivals.