By Heidi Smith
Piano teachers have a unique work schedule. Unless you happen to have a lot of homeschool or retired adult students in your studio, your teaching schedule is limited to after-school hours, and more likely than not you are teaching until 8–9pm at night. The majority of us also teach in our homes, and the lines between our work life and our home life can easily become blurred. There is an endless stream of things to do: plan lessons, buy music, create activities, track invoices & payments, teach the actual lessons. And that's just for our studio. We all have a multitude of administrative duties for our personal lives, too! How do you separate the two worlds and maintain a healthy work-life balance?
Ways to Achieve a Healthy Work-Life Balance
Set hours for phone calls. Just like any professional office, there are operating hours and there are hours when they are closed. Piano studios are certainly unique, but you are still a business and should not be expected to answer phone calls and texts from parents at any given moment of the day. A large portion of your day is obviously occupied by lesson time, but even time not spent in lessons does not need to be dominated by your studio. Set maybe a couple of hours in the morning or in the evening after you finish teaching, or whenever works well for you, and put the times in your studio policies. Parents will know when they can consistently reach you, and they will also know that if they call outside those hours, they're welcome to leave a message but they aren't guaranteed a conversation at that exact moment.
Set limits for responding to emails. Similar to setting hours for phone calls, set some parameters for your email communication. Maybe you only have one email address. I have a personal email address and a separate email address just for studio business. Try to only check your studio email a couple of times a day. Very rarely will there be any emergency with a student that immediately affects you. When something comes up that will affect the student's ability to come to a lesson, parents tend to call or text, rather than email. I try not to respond to emails any later than 9pm, usually I stop even earlier than that. And no matter how early I get up in the morning, I try not respond to emails until after 7am.
Keep weekends separate. You need time for yourself to spend with your family and to connect with friends. Of course there will be exceptions sometimes, like recitals, but as a general rule, try to keep studio business during the week.
Define your makeup lesson policy. Whether you're lenient and always reschedule lessons, or whether you require 24-hours' notice, be clear in your studio policies. Then when the situation comes up, stick to your policies and don't feel bad. You should always be gracious when you address this, but you shouldn't feel the need to apologize for your policies. They are in place for a reason, and because you'll have them clearly stated in your studio policies, it won't come as a surprise to parents.
Schedule lessons back to back. Scheduling lessons one after the other is useful for many reasons. It maximizes your teaching hours, it demonstrates that your studio is busy and you're in high demand as a teacher. Another benefit specific to chatty families is that another student arriving immediately means you have to move on with the next lesson. An additional tip on that note: try not to schedule the chatty parent at the end of the day when you don't have another student arriving.
Have a tip for achieving a healthy work-life balance? Share your advice with other piano teachers in the comments below!
---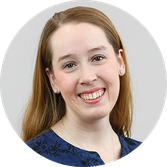 Heidi Smith earned her Bachelor of Music degree in Piano Performance and Piano Pedagogy from The Master's University in Southern California. She has been teaching piano privately since 2011. Heidi loves coffee and has a collection of exciting mugs!